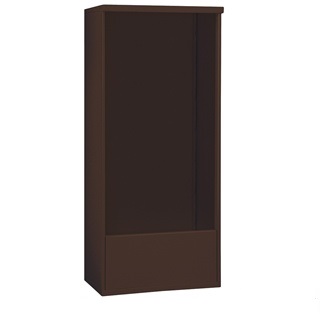 False
| Min Quantity | Max Quantity | Price |
| --- | --- | --- |
| 1 | 1 | $675.00 |
| 3 | 3 | $0.00 |
Salsbury Industries Free-Standing USPS Approved Horizontal Mailbox Enclosure #SY-3916D
In open office or individualized work stations, Salsbury Industries Free-Standing Horizontal Enclosures are perfect for Group One Double Column Modules. Available in four finishes: aluminum, bronze, gold and sandstone you're made certain to find the perfect storage and mailing unit for your building's specific needs. Free-standing Horizontal Enclosures are made with durable aluminum construction and are warranted for indoor or outdoor use. Using Free-Standing Horizontal Enclosures for Group One Double Column Modules for Group One adds stability and safety to any environment. Mailboxes are sold separately so you can choose the exact configuration to please your clients while maximizing effectiveness.
Features & Specifications
Designed to mount Group One, double wide 4C Horizontal Mailboxes to the ground and be freestanding
Constructed of heavy duty aluminum
For indoor or outdoor use
Mailboxes sold separately
Unit weight - 95 lbs.